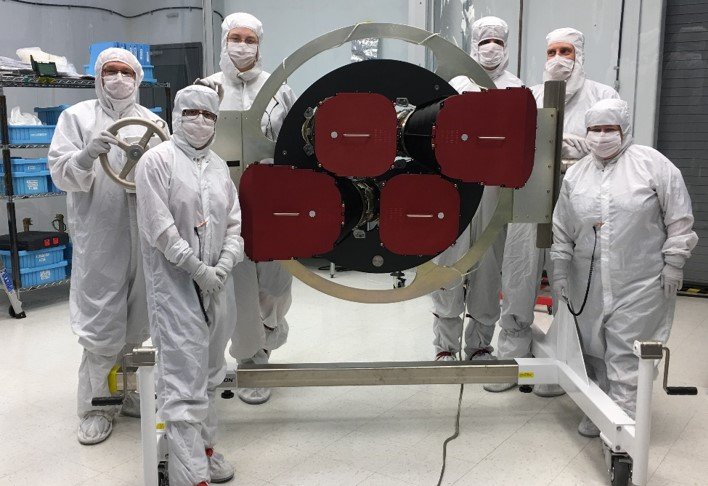 TESS Passes Critical Review
NASA's Transiting Exoplanet Survey Satellite (TESS) has moved one step closer to launch after successfully passing its Systems Integration Review (SIR), an independent review from independent technical and scientific experts who have deemed the mission ready to begin installation of its scientific instrument onto the spacecraft.
Scheduled for launch in March 2018, TESS will be NASA's next planet-hunting mission, searching for planets orbiting stars outside our solar system, known as exoplanets. TESS will use four wide-field cameras to scan nearly the entire sky, monitoring the nearest and brightest stars for temporary dips in the light they emit that may indicate a planet passing in front — an event known as a transit.
Developed at the Massachusetts Institute of Technology's (MIT) Kavli Institute for Astrophysics and Space Research and Lincoln Laboratory, the TESS cameras will use their wide field of view to monitor more than 200,000 stars for transits.
"After a number of years of planning and design, it is incredible to stand in the clean room and see a completed instrument from MIT and a completed spacecraft from Orbital ATK, just waiting to be brought together," said TESS Project Manager Jeff Volosin at NASA's Goddard Space Flight Center in Greenbelt, Maryland.
Now that TESS has completed this critical review, the mission's cameras and science data processing computer are scheduled to begin installation onto the spacecraft at Orbital ATK in Dulles, Virginia, over the next several weeks. Once successfully integrated, the spacecraft will spend the rest of the year undergoing rigorous testing to ensure the mission can withstand the harsh environment of space. The spacecraft is scheduled to ship in February to NASA's Kennedy Space Center in Florida for launch aboard a SpaceX Falcon 9 rocket.
The mission will survey stars up to 100 times brighter than those observed by NASA's Kepler mission, providing ideal targets for follow-up observations with missions like the James Webb Space Telescope (JWST), which is currently undergoing testing prior to its launch. In fact, TESS will spend its two-year mission observing areas of the sky that overlap with JWST's optimal viewing zone, finding the best exoplanet candidates for more detailed characterization.
"We're excited about the discoveries that TESS will make," said TESS Project Scientist Stephen Rinehart from Goddard. "TESS will find thousands of new exoplanets around bright, nearby stars, and these planets are going to be valuable targets for future study for decades to come."
Like the Kepler telescope, by design there is a range of focus and image quality across the TESS camera's field of view. Recent measurements revealed the TESS cameras to have slightly reduced focus and image quality near the outer edge of the image when placed in the cold temperatures of space, and better camera focus and image quality towards the center of the image. The difference between the designed and measured focus and image quality will not affect the mission's science goals.
"The TESS instrument, as built, is going to achieve all the Level 1 requirement goals it was built for, and it's going to be able to address a wide range of exciting additional science," Rinehart said.
The launch of TESS will be NASA's next step in the search for life on other worlds, adding to NASA's growing catalog of planets beyond our solar system.
"Our team is incredibly proud of the role we will play in identifying nearby exoplanets that can be studied in detail by JWST and other powerful telescopes," said TESS Principal Investigator George Ricker.
TESS is an Explorer-class mission overseen by the Astrophysics Division at NASA Headquarters. It is being led by MIT's the Kavli Institute for Astrophysics and Space Research, in Cambridge, Massachusetts, with support from NASA's Goddard Space Flight Center. Additional partners include Orbital ATK, MIT's Lincoln Laboratory, NASA's Ames Research Center in Silicon Valley, California; the Smithsonian Astrophysical Observatory, and the Space Telescope Science Institute in Baltimore. More than a dozen universities and observatories worldwide are participating in the scientific planning for the mission.
For more information about TESS, visit:
​Banner image: NASA's Transiting Exoplanet Survey Satellite (TESS), shown here in a conceptual illustration, will identify exoplanets orbiting the brightest stars just outside our solar system. Credit: NASA's Goddard Space Flight Center